Keep the ribbons on the RIGHT and you'll be All Right!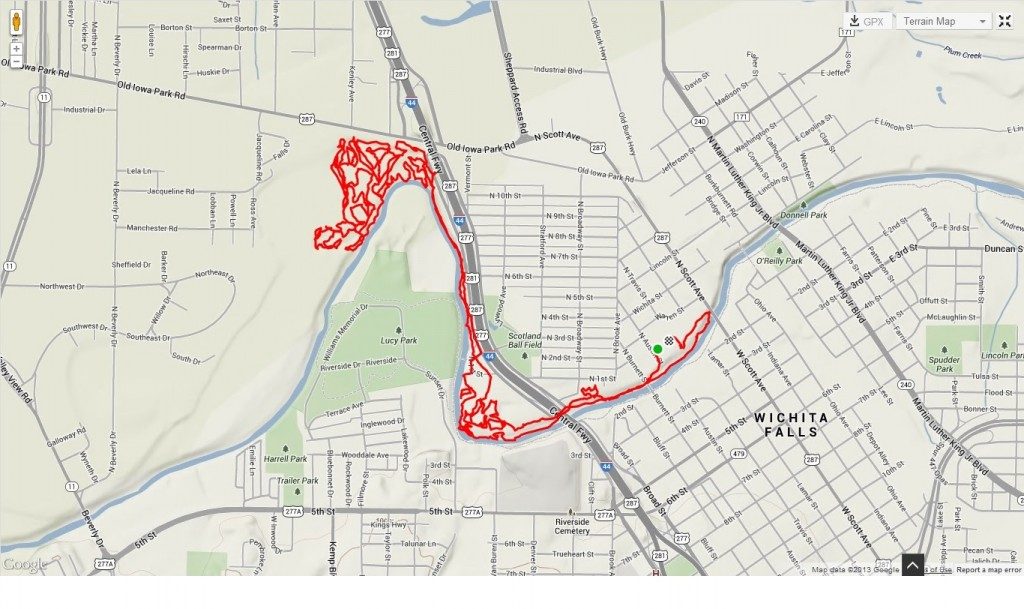 When you get to the RV Park, keep going north across the park and you will see the trail entrance.
Here is a link to the half marathon run – https://spaces.hightail.com/space/fdcpZ/files/fi-ef6ef12e-5847-47dc-a2cb-27b5240836f6/fv-49d6e48d-0e91-48e5-885e-55918b806e00/Wee-Chi-Tah%20Trail.pdf
See the long 'tail' on the right side of the map? That is the Run Only, Race Only trail. Mountain bikers DO NOT do this section – RUNNERS ONLY on race day on this section – this is on private lane and we may use it ONLY for races. Don't worry about trespassing by mistake, it is behind a locked gate. It's a fun section of flat, fast, mostly tree covered trail with a bit of sand thrown in for fun!
All Dirt Events start at and finish at the J.S. Bridwell Ag Center, 111 North Burnett Street, Wichita Falls, TX 76306. It's on the North side of the Wichita River from the Multi-Purpose Event Center – Headquarters for the Hotter'N Hell Hundred.
New for 2018 at the Dirt events!

All Cat One women and Cat one over 50 men will ride ONLY two laps on the Friday mountain bike race! Only TWO!!!
Both the runs on Sunday will start in the meadow just like a Cross Country race start! Exciting!!! The 10 k will start at 7 AM and the half will start at 10 after 7 or as soon as the half runners clear out.