After several years of bad weather and the resulting low number of registrations, The Duel is no more.
Click here for the Paved 2018 marathon course http://www.mapmyrun.com/routes/view/1909049156
The paved course is a twice out and back run, half marathon run out and back once, 10k turn is between MLK and the RR tracks. Mile and 5K markers are on the paved course. Don't worry that mapmyrun says it's not an exact marathon, it is with Cert # TX18003LAB
Dirt trail below
We use a slightly modified version (we start across the river at the HHH building) of the map below for The Duel dirt trail; just keep the ribbons on your right and you'll be all right!
Full dirt marathon runners will run 2 loops of the trail.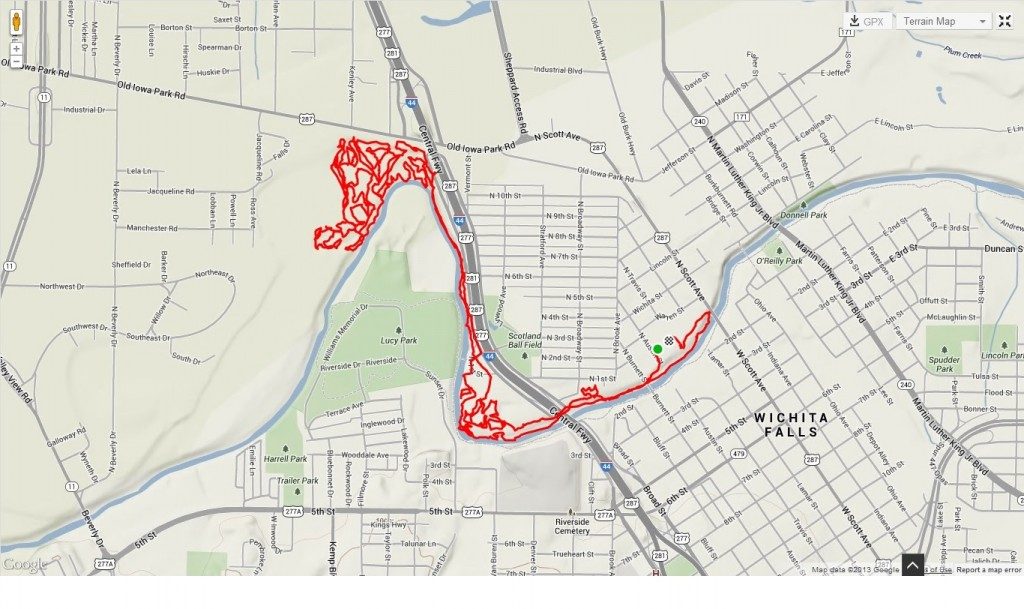 Leaving from 2nd Street and keeping ribbons on the right
1: First time at camp- 2.8
2: First time at Suttons – 6.6
3: second time Suttons – 8.9
4: Second time at camp – 10.2
5: first time statue – 12.9
6; Timing Mat – 13.2
7: 3rd time at camp 16
8: 3rd time at Suttons 19
9: 4th time at Suttons 22.1
10: 4th time at camp 23.4
11: 2nd time at statue 26
12: Finish 26.2
Here is a Relive of the dirt course starting at the HHH Building on 2nd street
https://www.relive.cc/view/1350776750