Alert!  To make things fun this year we are riding and running the trail BACKWARDS!  Gasp!  Crazy!!  
It will be fun!  Just keep the ribbons on your LEFT!  For the entire month of August, it's the TWISTED TRAIL!  Ribbons on your left!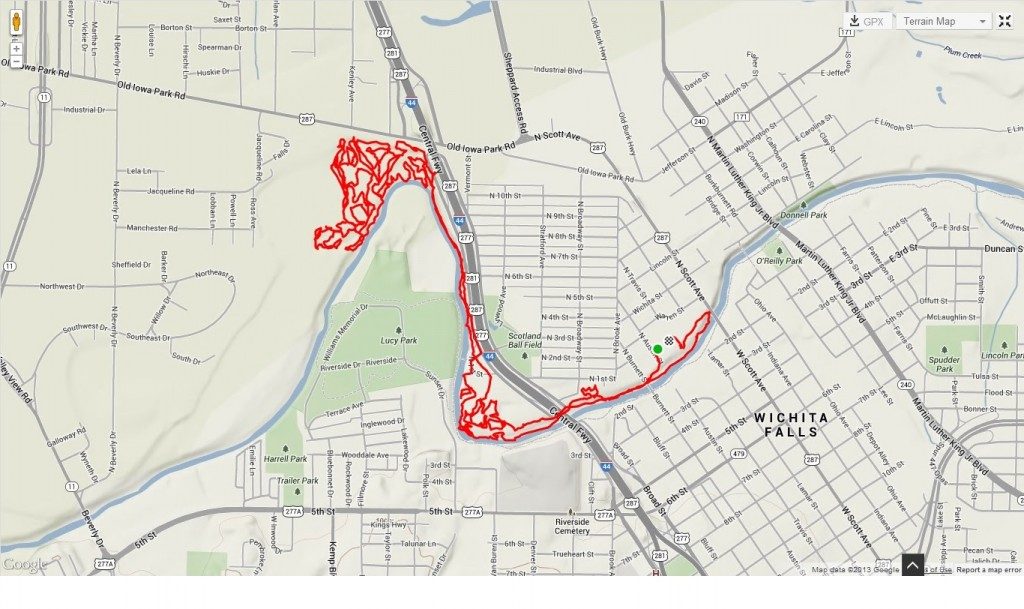 All Dirt Events start at and finish at the J.S. Bridwell Ag Center, 111 North Burnett Street, Wichita Falls, TX 76306.  It's on the North side of the Wichita River from the Multi-Purpose Event Center – Headquarters for the Hotter'N Hell Hundred.
The trail crew has been busy building trail!  We'll post a new map when we can but just follow the ribbons on your right and you won't get lost!
Mileage for the Wee-Chi-Tah Trail for the 2010 Marathon.
If you don't understand some of the lingo or landmarks, you need to run/ride the trail more often! This starts and finishes at the HHH Club House and was accurate for the 2010 marathon.  The trail flooded the weekend after the marathon, so the mileage could be different now….  Also, this course goes through one locked gate on the north side of the pedestrian bridge, so unless you're running with me or one of the trail crew, you'll have to get onto the dirt trail via the Scott or Burnett Street car bridge.
You can always email me with questions at info@weechita.org!
Sandy
1 mile to first big tree behind H Inn
2.25 to the big rock at the RV Park the first time.
2.97 to Camp Fillers entrance.
4.13 to Gitmo start
4.75 to Gitmo exit = 0.62 miles on Gitmo.
The Bowl is at about mile 5.75
8.16 to Fillers exit
So, Camp Fillers is 5.19 miles gate to gate, including Gitmo.
8.88 to the big rock at the RV Park the second time.
1.85 in Lucy Park
10.73 the third time to the big rock at the RV Park
13.05 to finish.
(Just  fyi, it's 3.14 miles from Camp Fillers exit to finish, skipping Lucy Park)